Discover the Allure of Hilton Vallarta Riviera: Your Gateway to an Unforgettable All-Inclusive Vacation
Welcome to the Hilton Vallarta Riviera, an all-inclusive resort that offers a unique blend of luxury, comfort, and cultural immersion. Nestled in the heart of Puerto Vallarta, this resort is a gem on Mexico's Pacific Coast. As a leading private transportation company in Puerto Vallarta and Riviera Nayarit, we at Puerto Vallarta Airport Transfers are thrilled to introduce you to this stunning destination.
The Resort
"Perfectly situated on a scenic stretch of exclusive coastline, the Hilton Vallarta Riviera All-Inclusive Resort, with all 444 oceanfront guest rooms, is a mainstay for travelers who want a more authentic experience of Puerto Vallarta."
This resort is not just a place to stay; it's a place where you feel connected to the vibrant culture of Puerto Vallarta. The friendly staff, the local cuisine, and the immersive experiences all contribute to this connection.
Accommodation
The Hilton Vallarta Riviera offers a variety of room types to suit every traveler's needs:
Partial Oceanview Room – Ideal for adults seeking a tranquil retreat with a partial ocean view.
Ocean Front Room – Perfect for those who want to wake up to the sight of the ocean.
Ocean Front Superior Room – Offers a superior oceanfront view for a more luxurious experience.
Ocean Front Premium Room – The ultimate in luxury, with premium oceanfront views.
Enclave Ocean View room with Jetted Tub – Combines a beautiful ocean view with the luxury of a jetted tub.
Each room is designed with comfort and luxury in mind, ensuring a memorable stay for all guests.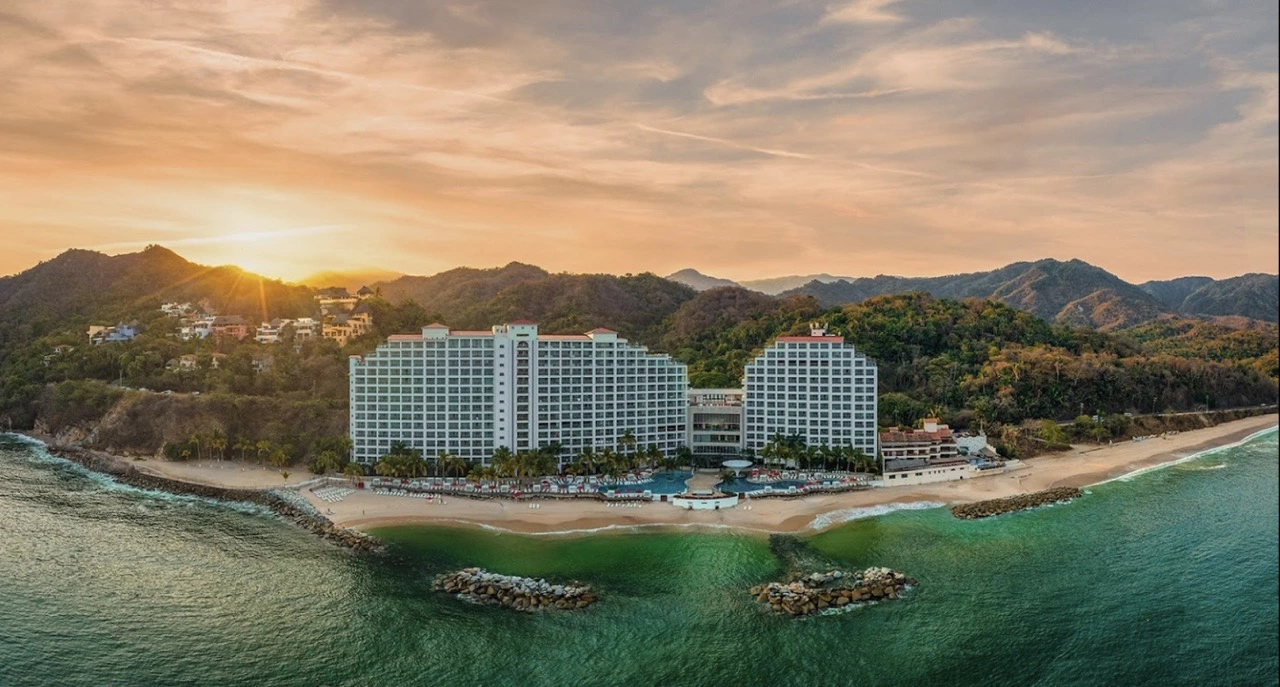 Amenities
The resort offers a wide range of amenities to enhance your stay:
Kids Club – A dedicated space for children to enjoy fun and educational activities.
Bars and Entertainment – A variety of bars and entertainment options to suit every mood and preference.
Wi-Fi – Stay connected with Wi-Fi access in the lobby, select public areas, and in your room.
Dining – A selection of restaurants offering everything from snacks and sushi to Mexican and Italian cuisine.
Fitness Centre and Spa – Keep up with your fitness routine or indulge in a relaxing spa treatment.
Non-motorized Water Sports – Enjoy a range of water sports activities at the resort.
All-Inclusive Experience
The Hilton Vallarta Riviera offers an all-inclusive meal plan, which includes all meals, snacks, and unlimited domestic drinks. This means you can indulge in a culinary journey without leaving the resort.
Location and Transportation
The resort is located at Carr Barra de Navidad km 4.5 Zona Hotelera, Sur, Puerto Vallarta, Jalisco, 49390, Mexico. As a premier private transportation company in Puerto Vallarta and Riviera Nayarit, we at Puerto Vallarta Airport Transfers are ready to provide you with safe and comfortable transportation to and from the resort.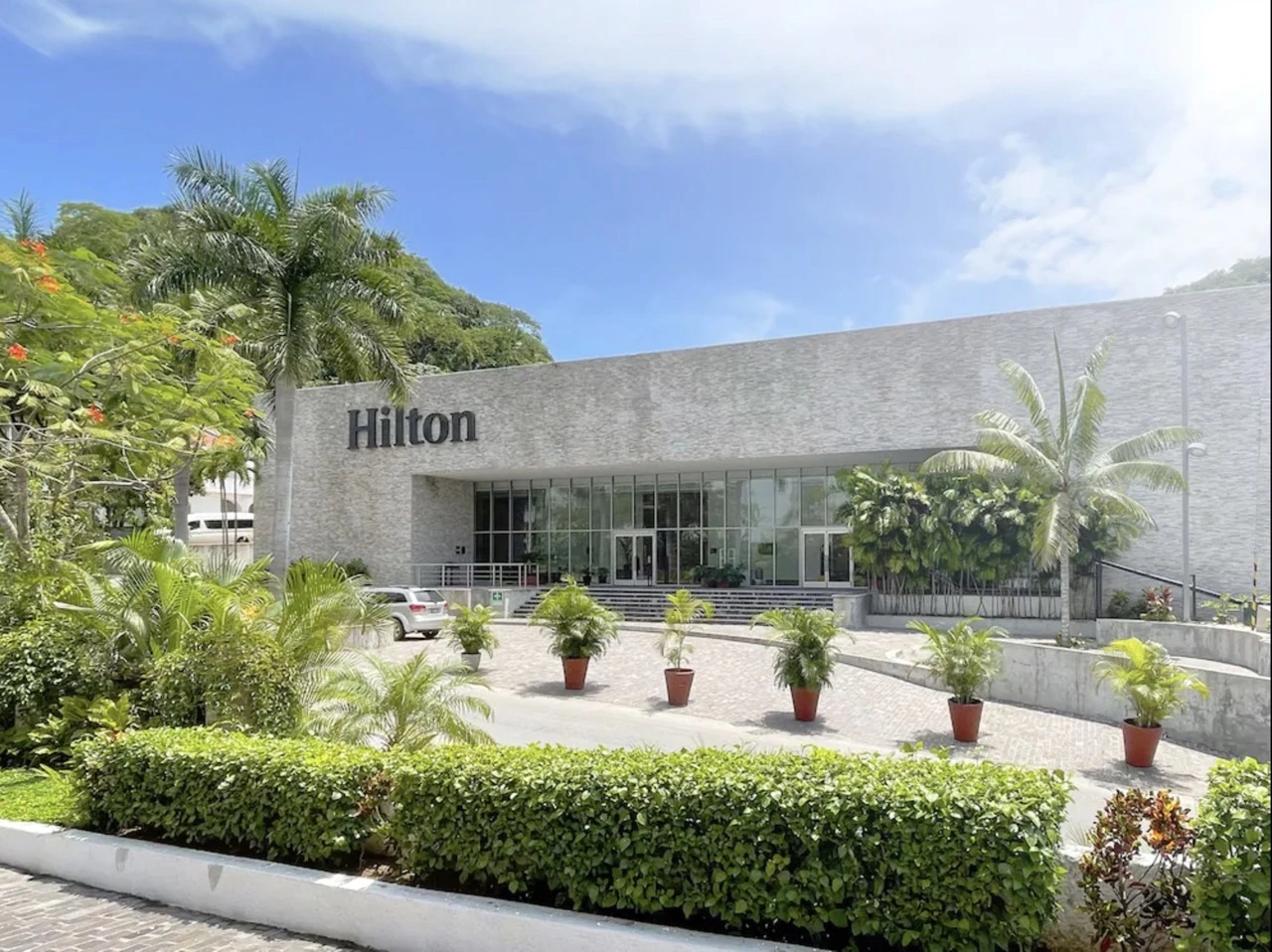 Reviews
The Hilton Vallarta Riviera boasts a 4.5 rating on TripAdvisor, with guests praising the beautiful views, quality of food, and exceptional service. However, as with any destination, it's always a good idea to check out the latest reviews to get a comprehensive understanding of what to expect.
"Beautiful views, but too many issues with the hotel" – Scott J, TripAdvisor

"Overall, we had a fantastic time. The food, staff, and rooms were top notch." – hollyhoosier07, TripAdvisor
Conclusion
The Hilton Vallarta Riviera All-Inclusive Resort offers a unique blend of luxury, comfort, and cultural immersion. Whether you're planning a family vacation, a romantic getaway, or a solo adventure, this resort has something to offer everyone. And with Puerto Vallarta Airport Transfers, your journey to and from the resort will be as comfortable and hassle-free as possible.
Ready to start your adventure? Book your private transportation with us today!
Comfortable & Efficient Transportation from Puerto Vallarta Airport to Hilton Vallarta Resort
Skip the stress and frustration of airport transportation. At Puerto Vallarta Airport Transfers, we ensure a comfortable, safe, and efficient journey to your destination. Book today and experience our top-notch services.
Our Array of Transportation Services
"We believe in providing a service that meets every traveller's need."
We offer a variety of transport options, catering to different needs and preferences:
Taxi Transportation: Our select airport taxis are always at your service. Avoid long queues and enjoy a cleaner, hassle-free experience!
Private Transportation: Enjoy a ride in our Small SUV, such as a Nissan Xtrail, equipped with complimentary drinks (1 beer or 1 water per passenger) and modern amenities for a comfortable journey. No waiting time!
Luxury Transportation: Indulge in the luxury of our suburban cars, offering complimentary drinks and an immediate departure for your destination.
Van Transportation: Our Nissan Urvan or similar vehicle accommodates up to eleven people, with no wait time. Complimentary beverages and plenty of storage space for boards and luggage.
Sprinter Transportation: Ride in a Mercedes Sprinter or similar vehicle, ideal for large groups (up to 19). Enjoy complimentary drinks, ample storage space, and immediate departure.
Escape the long queues and luggage hassles at the airport. With our quick transfers, start your vacation early!
Our vehicles are well-equipped with amenities such as GPS and complimentary car seats for kids, ensuring a worry-free drive. We also provide complimentary snacks (water bottles and beer) for your comfort.
Safety and Cleanliness: All our rides come with complimentary travel insurance coverage. Our certified drivers adhere to strict guidelines ensuring cleanliness and your safety.
From Puerto Vallarta Airport to Hilton Vallarta Resort
Wondering about the travel duration?
The journey from Puerto Vallarta Airport to Hilton Vallarta Resort typically takes approximately 15 minutes by transportation or shuttle, depending on traffic conditions.
Experience the smoothest and most comfortable transfer service today! Your vacation begins with us.