Once a small fishing village, Bucerias continues to hold its essence but now with the conforts of a tourist destination. This little locality jumped from anonymity to popularity during the decade of the 80's, but its origins trace back to the 1800's, when Spanish boats would travel to commercialize wood. For that reason, it was named " Santa Julia de las Tablas (Saint Julia of the Wood Planks), and later it changed to its current name, which means place of divers.
Since the late XX century, Bucerias has been one of the favorite destinations in Banderas Bay. Its proximity to the Puerto Vallarta area has drawn even more attention to it, but people stay and come back because of its beauty, its local gastronomy which includes a local beer, and of course, the diversity of friendly people.
We can provide Private transportation from Puerto Vallarta Airport to Bucerias. 
Escape the long lines and luggage hassles of an international airport with our quick transfers from Puerto Vallarta Airport to any resort or destination. Our professional drivers know how to get there safely and quickly. You'll save time by starting your vacation early!
Complimentary snacks (water bottles and beer) await you in the vehicle, along with complimentary car seats for the kids if needed. Our cars are also equipped with GPS for worry-free driving!
In addition, all trips come with complimentary travel insurance coverage and certified drivers who meet strict guidelines for cleanliness and safety.
HOW TO GET TO BUCERIAS FROM PUERTO VALLARTA AIRPORT?
We can help you with that, Puerto Vallarta Airport Transfers offers a variety of services from taxi transportation, standard transportation, Van and Sprinter transportation, and of course Luxury services. 
You can schedule us at this link. 
HOW LONG DOES IT TAKE TO GET FROM PUERTO VALLARTA AIRPORT TO BUCERIAS?
The transfer time between Puerto Vallarta Airport to the Nuevo Vallarta area is 30 min depending on traffic and high season. 
WICH HOTELS ARE IN BUCERIAS AREA?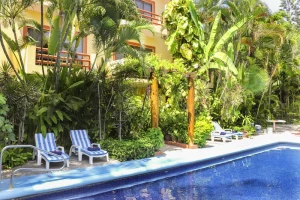 Bucerias
Affordable accommodations for those who want to be at the heart of the fun in Bucerias
Read More »