Sayulita has a very strong tradition of surfing and of being a gathering point for people from all over the world. Originally a small village, this town has grown to be internationally known. Sayulita is very rich in nature, artists and art galleries, and athletes, especially surfers, and it is recognized as a national surfing sport.
It is also a vibrant town at night, with a lot of great restaurants and street food places, bars, and nightclubs. It has the best of two worlds: during the day you can relax on the beach or swim, you can surf, do yoga, paddle board, walk and discover why it was chosen as one of Mexico's magical towns in 2015, and at night you can enjoy all the fun you want in the variety of leisure options. Sayulita is, without a doubt, one of the best destinations in Nayarit and it is always welcoming international visitors.
if you want to know more about here is one reference page
We can provide Private transportation from Puerto Vallarta Airport to Sayulita.
Escape the long lines and luggage hassles of an international airport with our quick transfers from Puerto Vallarta Airport to any resort or destination. Our professional drivers know how to get there safely and quickly. You'll save time by starting your vacation early!
Complimentary snacks (water bottles and beer) await you in the vehicle, along with complimentary car seats for the kids if needed. Our cars are also equipped with GPS for worry-free driving!
In addition, all trips come with complimentary travel insurance coverage and certified drivers who meet strict guidelines for cleanliness and safety.
How to get to Sayulita from Puerto Vallarta Airport?
We can help you with that, Puerto Vallarta Airport Transfers offers a variety of services from taxi transportation, standard transportation, Van and Sprinter transportation, and of course Luxury services.
You can schedule us at this link.
How long does it take to get from Puerto Vallarta airport to Sayulita
The transfer time between Puerto Vallarta Airport to Sayulita is 60 min depending on traffic and high season.
Wich hotels are in Sayulita area?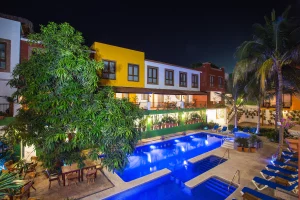 Sayulita
El Pueblito Sayulita Boutique Hotel, the hotel that embodies the traditional essence of this beach town
Read More »